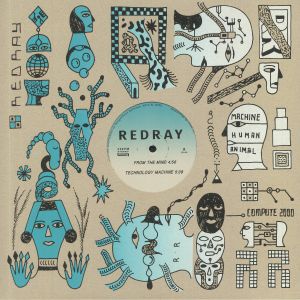 Westcoast style electro from Belgium's harbor city of Antwerp on Jack Playmobil coming from RedRay.
Meet Antwerp's ultimate Soda King aka Redray. After many years of isolation Redray has mastered his craft and learned to create believable demonic black eyes without Photoshop. Do not make eye contact for he orchestrates his moves with depraved sonic tendencies. He sees right through your soul. Xrays remove electrons from atoms and ions but only very hard x-rays can penetrate molecular clouds. The whole shock'n'awe type of thing, born bad, dripping goo and straight up evil. Think about a room filled with thick fog, vicious strobe lights and deep bass hits that would probably blow a submarine out of the water. For he is the uncrowned king of his castle and with this stab of purity he is transcending the cycles of life. Are you prepared to drift further into darkness? It's splash season! Classify under: "confrontational presence" and "downright alien". Limited black vinyl edition of 300 copies. Packaged in beautiful handsilkscreened cardboard covers with artwork by Redray himself.
Jack Playmobil operates from the mystic gravel pit of Antwerp, Belgium. Hungry Soul has obtained superpowers by fighting in the graveyard of life. He doesn't need wings to fly. His hands are dirty with electric mud. He has created a mold of dizzying electronic proportions, a nightmarish virtual reality dream state where sparkling energy collides with a total absence of time. Psychedelic electronic patterns drenched in futuristic haze. Imagine robotic ghouls malfunctioning in the snow. Hungry Soul creates dense eerie moodscapes rich with complexity and cosmic inspiration. His vision is blurry. His ways are everchanging, evolving and romancing the shadows of the night. Crafted with secure and utmost precision. Time to nurture your own hungry soul and create a delightful midnight carnival. Throw your double cups in the air and rejoice. Classify under : "wild prestige" and "increasing 3D awareness".