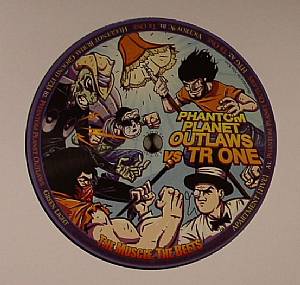 For the latest Apartment release two interplanetary gangs come face to face in a techno battle for the ages.
Hailing from the Phantom Planet we come across Forsh, Bin Man and The Red Defender, a trio of rebel Outlaws whose spaceship is under fierce attack from The Muscle Patrol, the Hi-tech Galaxy's ultimate and most fearsome tool of oppression. Following wave upon wave of Acid attack, the Outlaws are forced to eject from their ship, landing on a mysterious jungle planet…
Unbeknownst to them, the trio have landed on Huguenot, infamous for it's ghostly shark creatures which rise up to hunt the living…and they smell fresh meat…
…meanwhile, traveling across deepest space aboard The Viceroy 9-c we find The Dean of Threenie and e-D aka The Beets. They are 2 disparate characters from the planet Tr One, infamous for it's GreenLight Sector, a nefarious haven for low-life traders and smugglers. The duo traverse the galaxy in search of rare treasures to capture and trade back on home soil. Unlike the Phantom Planet Outlaws, these two know what awaits them on Huguenot…or do they.
Will The Beets save The Phantom Planet Outlaws from the bloodlusting creatures of Huguenot? Will they sell them out to The Muscle Patrol? Or will they join forces to rid the galaxy of it's most fierce oppressors?
The black gold sat upon your turntable contains all the answers…and more…