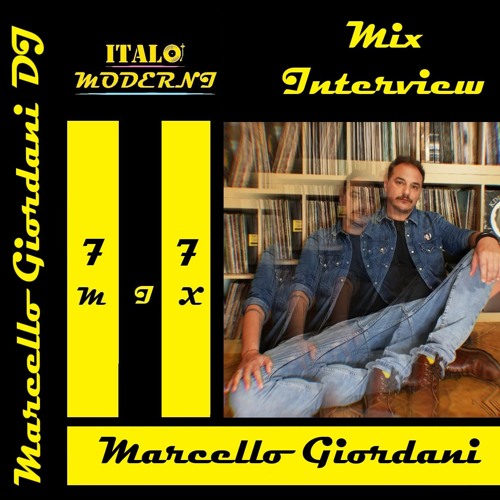 Marcello Giordani interviewed by Italo Moderni:
1. Marcello Giordani in one word?
Nerd
2. How was the feeling with your first synthesizer?
The feeling with my first Synth (Juno 106) was the total lack of ability i had with the sliders .. was like something from another planet.

3. What influences you got to produce 'ARREDO'?
I always like the Library sound but from the 70s rather than the 80s. Since when i discovered the Synthwave i was curious about where they got the inspiration (from the 80s of course) but i wanted to listen some "Original" so i started to do a deep research into the libraries from 1984 and labels like Sonoton, Bruton, Rouge music etc. After a couple of months i collected a good amount of great themes, the inspiration came consequentially. Arredo was already existing as an alias but didn't decide what to to with that name yet but i think it matches perfectly with the music.

4. Our favorite track from you is ''Morning Attitude'' we listened some influences by Vangelis…that's truth?
Nope, the influence is a mix between Trevor and Geoff Bastow, Jeff Newmann, Chris Evans Ironside, Fernando Fera and more.

5. How is the influence of Marvin & Guy in your sound?
I'm totally into the Italo and Library music since 15 years now. Marvin & Guy is more electronic disco but, of course, you can feel a lot of "Marcello" inside the M&G stuff.

6. Favourite synthesizer?
All the Roland synths

7. How is the process when you create a new track?
I t depends, sometimes is totally random, an inspiration from something i listen and other times i have some melody, beat or bassline in mind. I use to record the in my phone with a voice.

8. Spain or Italy?
Italy is getting almost impossible to live . I love my country, but not sure if i wanna live here anymore. So Spain.

9. Who was the first musician to influence you?
I started playing House music in 93 so the first producer really influenced me were the Masters at Work.

10. Your last record bought on Discogs?
Andy Quin – Videotronics

11. The most difficult track to produce on ''Orizzonti''?
Was the bassline of "Dieci anni Dopo". I wanted to make a very short bassline with a techno feeling. I spent few weeks to find the good one.

12. Favourite pizza?
Prosciutto Cotto e Funghi

13. Your favourite vinyl in your collection?
Impossible to answer.

14. What do you think about the new italo producers? Do you think we live in a new italo scene era?
It depends, Italo sound was discovered minstream at the end of the 90s and since then all the Electronic scene speaks about Italo as a great style, sometimes easy and funny but considered as something who contribuited to the creation of the house music and techno. It' true but from my point of view, now, is kinda static .. it remains a super underground style but i don't think it's having an hype right now .. no more than some year ago i mean .. I prefer like this.

15. Italo Deviance blog, now a Master Program on streaming..what is the next? Explain us how the process was.
The blog era is over since years now. During the last winter, due to the situation, i moved back to my mom's place finally with all my records after 7 years but i realised that having a huge collection doesn't mean listening a lot of records. My idea was, i start a video show so i have the opportunity to listen one by one all the records of my collection and also create a new format. The continuation of Italo Deviance Blog but on video 3 months ago i got contacted by Dj Tennis for the new Twitch channel by Life and Death and now Master Program is part of it.

16. Most wanted record?
Clean Hands Group – Shake it on

17. Favourite Italo record labels from 80's?
Musix Rec. by Maurizio Sangineto cause he released the best Funk, Boogie and Electronic disco in Italy during that years.

18. What is the word ''Art'' for you?
Art for me means expression without limits of what you you really feel. Everything can be art.

19. New favourite track?
Cormac – Heartcore

20. Festivals or clubs?
Clubs forever, i need to feel the people's energy and vibes very close to me when i play.

21. Top 3 Italo disco tracks?
Expansives – Life with you
Clean Hands Group – Shake it on
Block Sistem – Don't leave me now
…and 30 more

22. Some news about Marcello Giordani releases?
Gonna produce my new 2xLP on Slow Motion rec. in spring 2022 called "Advanced Process" with also some good remixes 😉 i will also release Maurizio Arredo "Night Attraction" LP on vinyl.

23. What do you like express playing this mix?
Proud of the tracklist haha

24. Say something in Italian!
Ascoltate la musica e non rompete i coglioni.