full time records
All posts tagged full time records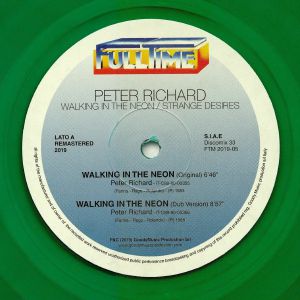 Full Time returns with remastered versions for two Peter Richard italo classics.
Jago was the studio project of Michele Violante created in Milan, Italy in 1983. The line-up also included Luciana Cirrillo aka Kynsha, who wrote lyrics and sang back up vocals. The name Jago comes from Iago, the main antagonist in Shakespeare's 'Othello'. In those years, Michele produced a lot of songs and published material for Full Time Records. "I'm Going To Go" was recorded at Forum Studio in Rome in 1983 and released on Full Time the same year. He made an electro-funk demo with a Gibson Les Paul, but during practice the song became soulful funk but arranged with new wave electronics. The song revolves around a slick atmospheric bassline, driving electronic percussion, and tight rhythm guitar and synths. The setup for the recording was a Casiotone MT-40 keyboard, Boss DR-55 and Sequential Circuits Drumtraks drum machines, an Akai cassette recorder, and a Revox A77 for multi-tracking. Lead vocals were done by session musician Bruno Kassar, delivering Kynsha's playful lyrics along to the lead melody. Also on the A-side is the Instrumental Version which became a hit in New York after Larry Levan played it repeatedly at the Paradise Garage. Full Time asked Levan's long time friend Frankie Knuckles to make a remix. It was released in 1985 as the "Plant Mix", and is included here on the B-side. This was Frankie's first released remix, although the record label misspelled his name as 'Frankye'. The remix clocks in at over 8 minutes, and is a dub edit made using the stereo master of the instrumental track.
Spaced out disco electro. The mysteriously named 4M International was a side project of the production team behind short lived Italo group Trilogy ("Not Love", "Black Devil" etc). "Space Operator" is the only record the outfit recorded and is an ultra spacey, pitched down, cosmic anthem based around fellow Italian band Traks' "Drums Power" record, taking the rhythm track and adding a wealth of killer sound FX, synth washes and sinister vocoded voices inviting us to join them in some intergalactic space travel. Released in 1982 on Full Time records off-shoot Good Vibes.