Synth wizards Salta & Roma return to Bordello A Parigi with four magical heaters!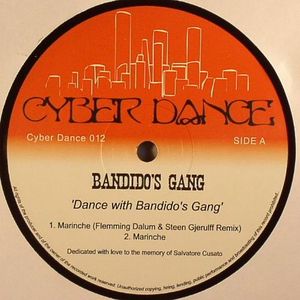 Ostensibly one of Italo Disco's great lost producers, we suspect that Bandido's Gang may well be a nom de plume for one of the label's many associates. Whatever their provenance, the tracks certainly sound like vintage Italo, with "Marinche" leading with a pulsating bass arpeggio and synth horn melody worthy of Moroder, whilst the Flemming Dalum & Steen Gjerulff remix adds layers of vocoder and a variety of cosmic accents to its sturdy frame. "Last Train to Tucamari" meanwhile takes a more languid approach, pulling in an opposite direction to the speeding train samples, whilst Flemming Dalum & Mike Salta's remix adds some guitar licks, hazy synth atmospherics and even a flute solo which just adds to the classic Italo feel.
After 25 years Bordello A Parigi offers you these mid-80's italo-disco-bangers on vinyl again. Three old killer releases transformed in one reissue. The three course menu contains the two 1985 hard hittin' D. Carred obscurities and continues with this spicey hidden gem 'I'll Go Where I Like To Go' from Rambles, which was D. Carred's first production on vinyl in 1984. On top of this sunny mountain of an Italian pie you'll get two extra remixes of 'You'll Be A Winner' by the Danish crème de la crème of italo: Flemming Dalum and Mike Salta. Comes with beautiful picture cover and illustrated inner sleeves.