upperground orchestra
All posts tagged upperground orchestra
Rabih Beaini's Upperground Orchestra (Beaini, Alvise Seggi, Tommaso Cappellato. Piero Bittolo Bon) back with their first studio material since 2008.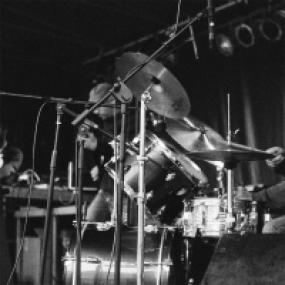 The formidable Lebanese / Italian jazz nomads release a long player of deepness on Morphine's new live series. First long player from Upperground Orchestra initiates the new 'live series' of Morphine Records. 'The Eupen Takes' is a live document clearly showing what the collective is normally improvising on stage, a chaotic but still tight blend of jazz, kraut and electronics, where nothing is previously planned, and analog synths and spaced out sounds melt with instruments in a natural and free approach. The Eupen Takes LP contains the second half of the june 2011 show at the Meakusma stage, Eupen Muzik Marathon.
One of the rare new Terrence Dixon releases… this time on the nice Meakusma. The two original tracks are two deep space jams with and from a Detroit mindset, the remixes on the flipside by Upperground Orchestra take the 'Room 310' track into deep jazz territory. The original 'Room 310′ has one filtered and repetitive synth melody at its core, Dixon's own voice marking a conflict between the reality of everyday life and the expanded reality of what he sees in the sky. 'Who is That' explores the same territory.