ectomorph
All posts tagged ectomorph
The debut record from Ectomorph that launched it all — the project, and the label Interdimensional Transmissions in 1995. This is the first time it has been repressed in over a decade, and it's using the original masters complete with 3 lock grooves cut by Ron Murphy.
Ectomorph occupy a unique and strange place within Detroit Techno history. Founded in 1994, they released their first 12″ singles in 1995 as an attempt to make Detroit music for Detroit itself, rather than exclusively for export. The mystique of their early singles led to mythic status and a strong underground cult following, which they have continued to develop through releases on their own Interdimensional Transmissions label. Their live shows are legendary for their ability to fluidly incorporate improvisational techniques into synthesized music (and for the sheer amount of hardware that they bring to the stage). The Ectomorph show is all analog, no computers or samplers or even drum machines: all sounds come from the modulars and the mountains of Moogs. Ectomorph (now officially comprised of BMG & Erika) reconvened in 2016 to write new music, which led to a series of live shows where the new material was tested via performance and allowed to evolve in form. To capture the energy of these performances, the new material was recorded in the studio totally live, multitracked for further engineering, but with no editing whatsoever. The entire album was recorded live in one or two takes in the Interdimensional Laboratories in Detroit. This is the sound of the idea that is Ectomorph, presented in its natural and organic format, live and improvisational.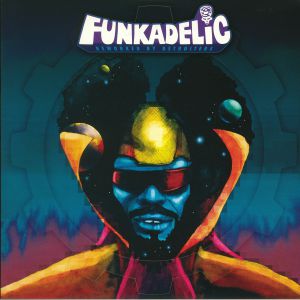 Funkadelic have created an enduring legacy, and the power of their impact is visceral in Detroit. Their records not only played with genre, but possessed a diabolical sense of humour that led to music domination by the late 70s with Parliament, Funkadelic, Parlet, Bootsy's Rubber Band and the Brides Of Funkenstein all releasing albums the same year for two years in a row. The music itself is beyond stereotype, but equally huge is that they were a black band not allowing themselves to be limited by anyone else's notions of who they could be, having a massive impact on the next generation of Detroit music, Detroit Techno. But more than just Techno, it is a freedom of thinking that extends beyond boxes, so we included all sorts of today's generation of Detroit musicians and producers to show the wide range of music that was Funkadelic and how these ideas are still contemporary, they endure and inspire.
Sweet athmospherical tracks from Josh Dahlberg on Blank Artists. The EP comes with remixes from Planet E's Monty Luke and classic electro producers Ectomorph . In addition to the remixers, Josh Dahlberg collaborated with musicians from Detroit's Rock and Funk communities (Will Sessions) for songs on the A Side.
Free gift from Scion A/V. Three reinterpretation of Detroit's garage / punk band The Dirtbombs, comming from Omar-S, Kyle Hall and Octomorph.