interdimensional transmissions
All posts tagged interdimensional transmissions
This is the sixth release on Eye Teeth, the techno sublabel of Interdimensional Transmissions, by Berlin's Pascal Hetzel. This EP effortlessly merges a modular and hardware approach to music making while fusing techno, industrial and electro influences. The opening cut "Incognizance" is a near perfect blend of all his influences, while the EP closer "Reformation" mixes these ideas into an energizing very techno take on electro feelings. We love this EP and really look forward to new music from this promising artist.
The debut record from Ectomorph that launched it all — the project, and the label Interdimensional Transmissions in 1995. This is the first time it has been repressed in over a decade, and it's using the original masters complete with 3 lock grooves cut by Ron Murphy.
Ectomorph occupy a unique and strange place within Detroit Techno history. Founded in 1994, they released their first 12″ singles in 1995 as an attempt to make Detroit music for Detroit itself, rather than exclusively for export. The mystique of their early singles led to mythic status and a strong underground cult following, which they have continued to develop through releases on their own Interdimensional Transmissions label. Their live shows are legendary for their ability to fluidly incorporate improvisational techniques into synthesized music (and for the sheer amount of hardware that they bring to the stage). The Ectomorph show is all analog, no computers or samplers or even drum machines: all sounds come from the modulars and the mountains of Moogs. Ectomorph (now officially comprised of BMG & Erika) reconvened in 2016 to write new music, which led to a series of live shows where the new material was tested via performance and allowed to evolve in form. To capture the energy of these performances, the new material was recorded in the studio totally live, multitracked for further engineering, but with no editing whatsoever. The entire album was recorded live in one or two takes in the Interdimensional Laboratories in Detroit. This is the sound of the idea that is Ectomorph, presented in its natural and organic format, live and improvisational.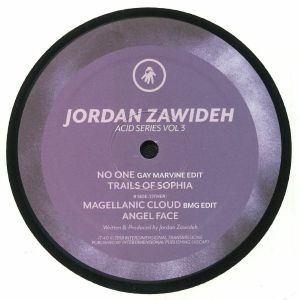 The Acid Series celebrates over 10 years of No Way Back, with music that directly references that experience. Jordan Zawideh's music perfectly reflects his personal migration from Detroit to Chicago. It somehow combines the raw elegance of a Larry Heard demo (listen to the demos of "A Path" or "Acid Dreams" and cry) with Detroit Techno and an unconscious take on the sonic exploration of Drexciya, showcased in songs like "Magellanic Cloud" and "Trails of Sophia". In Jordan's sound, the raw power of the cassette era of Chicago House combines with a Detroit Acid Dream. Gay Marvine and BMG complete the package with two edits.