Downwards Records present a full circle label showcase featuring the noisier, leftfield end of Techno.
Downwards' collect the best of their DO series, together with a handful of exclusive aces on 'So Click Heels'. Since 2009 the label's affections for the miasmatic drizzle, sonic innovation and repressed violence of post-punk and shoegaze has manifested itself in some twelve releases veering between the scuzzy basement noise of Collin Gorman Weiland, the blissful feedback blooms of The KVB, and swaggering rock'n'roll from DVA Damas. A good proportion of them feature here – including Richard H Kirk's droning remix of Tropic Of Cancer's 'Be Brave', the desiccated drum machines of Sandra Electronics (Regis), and Pink Playground's powdered-glass shoegaze bloomer 'Ten". Unreleased bits: the phet-clenched twitch of Deathday's 'Dropped Into Obscurity' or V West's 'Catching Me Cold'; the excoriating sludge of The KVB's 'Dayzed'; a mighty slab of monochrome, motorik punk from Silent Servants (Juan Mendez); the psychoactivated rock 'n roll of Green Screen Door; and not least an insidious Electro cut from Antonym, or the graphite surfaces and choking dust of Six Six Seconds' 'Tearing Down Heaven'.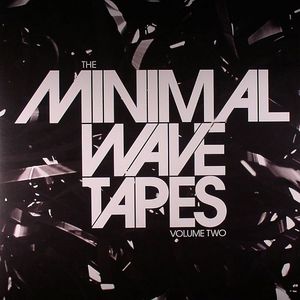 This is the second volume of The Minimal Wave Tapes series, a collection of rare electronic music compiled from bands around the world.  Most of the songs were recorded in the 1980s and originally released on limited edition cassettes or vinyl by the artists themselves, and only a handful of people knew about them.  Now they've been remastered from their analog source tapes, brought to you by Veronica Vasicka and Peanut Butter Wolf.